2021 Scenario: Global Pandemic

Each year, the MACCDC develops a new exercise scenario and implements cutting-edge technologies that mimic those in the real world. This year's scenario involved student teams working for The National Emergency Response Division (N.E.R.D.), a data science-focused group within the Big Time Health Organization (BTHO), a multinational entity headquartered in Bethesda, Maryland. N.E.R.D. employees were exceptionally busy dealing with the global health pandemic. As such, they had to not only shift to work from home, but also expand the number of employees to support the inordinate amounts of data that was flooding each of its eight geographic locations throughout the U.S. Protecting the integrity of the data was critical, but when the data affects the delivery of health services to the public, the job of N.E.R.D. became even more mission critical.
The student teams stood on the front lines of technology, alongside various healthcare providers. The main task at hand was to ensure that pandemic-related data from state departments of health were accurate and delivered quickly. Information on outbreak locations, promising interventions, efficacy of testing, mortality rates, and other related statistics were critical so physicians, public health officials, and government entities could make informed decisions about resource allocations. Loss or inaccurate information could lead to tragic consequences.
2021 MACCDC

Dates
Virtual Qualifying Round: Feb. 27
Regional Finals: Apr. 1-3
Wild Card Round: Apr. 7
National CCDC: Apr. 23-25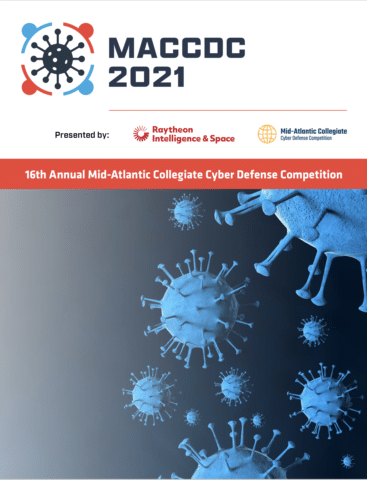 2021 Regional Final Teams
Final Standings
University of Maryland, Baltimore County (UMBC)
George Mason University *
Liberty University
* For the second year in a row, a Wild Card round (April 7, 2021) pitted the 2nd place finishers from all the CCDC regions against each other. The winner advanced to the National CCDC Finals.
Regional Final Teams (Alphabetical Order)
Capitol Technology University
George Mason University
Liberty University
Millersville University
Northern Virginia Community College
Old Dominion University
University of Maryland Baltimore County
University of Pittsburgh
Bowie State University
Capitol Technology University
Christopher Newport University
Community College of Baltimore County
East Carolina University
George Mason University
James Madison University
Liberty University
Marshall University
Millersville University
Northern Virginia Community College
Old Dominion University
Rutgers University
Saint Vincent College
The Penn State University
The University of Virginia's College at Wise
Towson University
University of Maryland Baltimore County Team 1
University of Maryland Baltimore County Team 2
University of Maryland College Park
University of Maryland Global Campus
University of Pittsburgh
University of Virginia Team 1
University of Virginia Team 2
West Virginia University